Home
Welcome to The Dog Squad – Best Bay Area Dog Training!
In-home puppy & dog training for the East Bay, including Oakland, Berkeley, San Leandro and Piedmont.
The Dog Squad offers professional puppy & dog training services that help families solve all types of dog problems, including dog aggression. The Dog Squad also has classes in Nosework, Tricks and AKC Canine Good Citizen preparation.
Oakland-based dog trainer Jayne Frankin is trained and certified by The Dog Squad's founder,  Steve Bettcher, an IACP Certified Dog Trainer and a certified Nosework Instructor, has over 20 years of puppy & dog training experience. Over 45 East Bay veterinarians refer their clients to him for in-home puppy & dog training and problem solving.Dog obedience problems often are the result of poor communication and inconsistent discipline.
Professional, In-Home Dog Training
Jayne teaches owners how to train using a humane approach to puppy & dog training. Her method teaches you how to communicate with your dog. She acts as your coach. Jayne works with your dog and then shows you how to get the exact same results. The Dog Squad training programs produce dogs that listen better and behave well even when distracted.
We Solve Aggression & Anxiety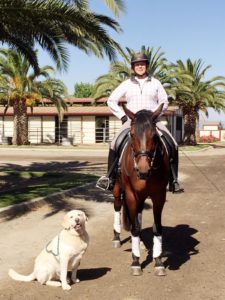 Many in-home puppy & dog training programs only cover basic dog manners and obedience. They do not deal with specific problem dog behavior. Jayne works with all breeds of dogs, all canine temperaments, and all dog behavior problems.
The Dog Squad offers a variety of private in-home dog training programs using a reward based training. No dog problem is too challenging for us to help you solve.
Because Jayne and Steve travel from Oakland to your location they only covers Alameda and Contra Costa Counties for in-home dog training. The Dog Squad does work with people from outside the area by special arrangement.
Call The Dog Squad for an In-home Dog Behavior Evaluation. We on weekends and we offer lifetime dog training support.
Call us today at 800.649.7297