Traveling with Your Dog Safely
I have had many memorable road trips with my dogs. I have driven 1000's of miles with my pack of three traveling to Dog Camps, Agility Trials, and to my property in Idaho. These trips have a special place in my memory and the experiences will always make me smile. But traveling with you dog on a road trip takes special planning and preparation so that you and your dog(s) are safe and happy.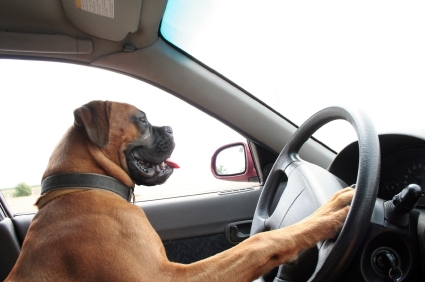 Plan ahead when traveling with your dog by making a list of all the items you will need well in advance so that you can relax and have fun with your dog(s). Before leaving make sure that your dog(s) will be welcome at your destination(s). Find pet friendly motels and camping grounds on-line before hand and make reservations. www.dogfriendly.com/ Make sure your dog is welcome if you are going to a friend's house. If you plan on going to a lot of places that your dog will not be allowed such as amusement parks, national monuments, museums then don't bring Rover. Make plans to have him properly taken care of by friends or family or professionally by a pet sitter or kennel. See Robin MacFarlanes article Tips on Overnight Boarding and Care.
A crate is the safest way to travel with your dog. It also can be used at your destination to make your dog feel safe and comfortable. Other options are using a dog barrier that separates the dog from you and allows some freedom but keeps them from flying forward if you have an accident. There are car seats for small dogs and seat belt harnesses if you don't have a crate or barrier. For more info on car safety for dogs go to Car Safety for Dogs.
Make sure you have proper ID tags and Microchip your dog. A cell phone on the tag is best so that you can be contacted while traveling. You can also use temporary tags written in waterproof pen and changed with each new location you travel to.
Visit your vet before going on your trip to make sure you have all the proper vaccinations and proper health and rabies certificates. This is especially important if you are traveling across boarders. Some cities in other states may also require proof of vaccinations so don't leave home without them. If you are planning on hiking and camping check with your vet on what other vaccinations you might need such as Lyme disease.
Bring a good supply of your dog's food and water. Don't plan on buying it on the road. You may not be able to find your brand and some dogs can have digestive problems if you change their food. Diarrhea on the road is no fun. Pack all of your dog's food and water dishes and other essentials such as leashes and extras, snacks, toys, plastic bags for clean-up, grooming brushes and medicines.
Pack a First Aid Kit for the dog. Don't forget sun protection. Dogs do get sun burn. You can find what should be included on the web. Dog First Aid Kit
Remember to keep the car well ventilated especially when traveling in the summer in hot and humid places. Do not let your dog hang her head out the window. This is a very dangerous practice. Your dog can be thrown out the window or suffer cornea damage from the wind and from flying debris and grit.
Plan to stop every 2 to 3 hours. Check for parks and rest stops before hand so you can plan your stops along your route. Always use a leash and put it on before you let the dog out of the car to avoid any bolting. Always clean up after your dog and be respectful of other's property especially at hotels and friend's homes.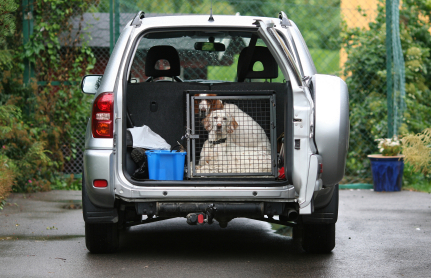 Keep you dog on a regular schedule for feeding, sleeping and elimination. Bring cleanup supplies such as wipes and towels. You never know when you dog might get sick. Be prepared.
Bring a flashlight for night walks and potty runs.
If you plan to hike with your dog make sure your dog is in good physical condition before hand. Don't just take off on a 20 mile hike when all your dog is used to is a 30 minute walk every other day.
If your dog does tend to get stressed when traveling long distances consult with your vet before leaving and she may be able to recommend medications to reduce your dog's stress and anxiety.
I know this is a lot of things to prepare but if you plan ahead then you and your dog will will have a wonderful trip stress free road trip that you will remember fondly for a life time.