In-home Dog Training
In-Home Bay Area Dog Training Programs by The Dog Squad
Dog Obedience Training Serving Concord, Fremont, Danville, Alamo, Blackhawk, Orinda, Walnut Creek, Lafayette, Concord CA and Surrounding Areas
In-Home Bay Area Dog Training Programs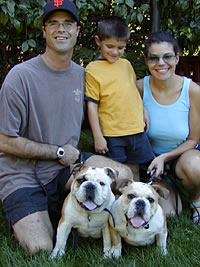 This dog obedience training program is designed for control around the customer's home. We will train the owner to train their dog to be reliable around the house and around real world distractions. This training program is in-home so our trainer will come to you! We offer commitment based training which means we will work with you until ALL of your goals have been met. Lifetime email and phone follow-up is available should the client encounter problems with any of the outlined objectives.
The following Dog Obedience Training concepts/commands will be taught:
| Basic Manners | Basic Obedience |
| --- | --- |
| No Jumping on Guests | Sit on Command (maintaining a sit/stay) |
| Off furniture/counters etc. | Down on Command (Maintaining a down/stay) |
| Quiet on Command | Heel, walking on a loose leash |
| Waiting at doors | Stay |
| Digging and Chewing | |
| Possessive and Territorial Aggression | |
We charge a flat fee and we work with ALL of the dogs in the home. You can also upgrade to this program from the puppy training program and that fee will be applies towards this training package. This in-home training program if for dogs of ALL ages, with any behavior problem including aggression.
Aggressive Dog Training Program

Our aggressive dog training program is designed to correct and eliminate any AND all forms of aggression. We specialize in aggression, anxiety, and behavior modification. Some forms of aggression are resource guarding, food, human, dog, sibling, territorial, protective, leash, etc. We also address separation anxiety for dogs that cannot be left alone. Remember, it is always best to address any behavior problem right away…don't wait for it to get worse!
The following Dog Obedience Training concepts/commands will be taught:
| Basic Manners | Basic Obedience |
| --- | --- |
| No Jumping on Guests | Sit on Command (maintaining a sit/stay) |
| Off furniture/counters etc. | Down on Command (Maintaining a down/stay) |
| Quiet on Command | Go to Place (bed, rug, or mat) |
| Waiting at doors | Heel, walking on a loose leash |
| Digging and Chewing | Sit, down, Place, Heel, Stay, Come (from distance & with distractions) |
| All forms of Aggression |  Separation Anxiety |