Dog Trainer Oakland
Dog Trainer Oakland saves Pit Bull Through Dog Obedience Program
When I first got the call from Rhea she was extremely distressed. One Veterinarian had recommended that they put Charcoal her 4 year old Pit Bull down. When I arrived Charcoal had been isolated in his dog run for over a week.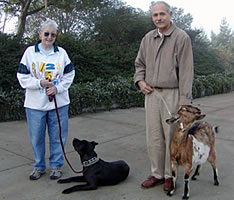 Dog Trainer Oakland trains Rhea Babbitt
Steve Bettcher was referred to me by my veterinarian, Dr. Eric Braun of Skyline Veterinary Hospital, because my beloved Pit Bull, Charcoal, whom I have had for over 5 years killed one of our pet goats. I was so distraught by the incident that I was on the verge of having Charcoal put down.
After Steve talked with me and met Charcoal he was convinced that this dog could be saved.
Steve's instructions for working Charcoal were clear and easy to follow.
He also helped me forgive Charcoal after I understood that what he did was part of his natural prey drive and that he was not an evil killer dog. Charcoal is a loving dog and I have taken him out to visit people in rest homes and to visit with children in schools. He is very gentle and loves attention from people. Through training I have been able to bond even more closely with Charcoal and when the time came to introduce him to the family goats he responded marvelously. Charcoal will sit by my side on a leash with total attention on me while one of the goats is paraded around him.
I would recommend Steve of the Dog Squad to anyone who needs training for a dog. He is professional in every way and a great teacher.
Rhea Babbitt