Bay Area Dog Resources
Dog Parks, Walking, Boarding, Grooming and More
We are often asked about local dog resources ranging from where to walk with my dog to where should I board my dog. We came up with a list of our favorite places and referral sources to help the Bay Area dog owners. This of course is not a complete list of dog resources and if you would like something added to it or want to make your own recommendation please email us at: training@dogsquaddogtraining.com
Dog Parks
Dog Trails
Dog Walkers
Doggie Day Care
Dog Boarding
Dog Grooming
Agility
– Organizations
– Trainers
Dog/Breed Organizations
Obedience Competition
Rescue Organizations
Websites
Doggie Boutiques
Books and Articles on fun things to do with your dog
Dog Parks We Recommend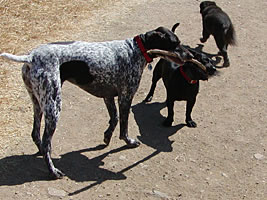 Point Isabel Regional Shoreline, Richmond
This is a great place to take your dog off-leash. Over 21 acres bordered by the bay. There are beautiful views of the bay and the Golden Gate Bridge. Over 500,000 people and 750,000 dogs visit per year. Our only note of caution is that you need excellent voice control of your dog and though the majority of people are very responsible you can occasionally run into an aggressive dog. We like to go on week days when you have most of the park to yourself. Weekends can be a zoo and overly crowded with too many inexperienced dog owners. If you go on the weekend go early in the morning because there are fewer people. The park also has a café and a dog wash called Mud-Puppy's Tub and Scrub. There are adequate restrooms and watering places for the dogs. At the East entry there is also a hose that you can use to wash down your dog after they have been in the bay or in the mud. They also provide doggie clean up bags and have plenty of garbage cans spread out through the park. This is a doggie paradise!
Directions: From I-80 in Richmond exit Central Ave. Go west towards the bay. If you want to go to the less crowded entrance turn right at the first stop sign after the freeway exit and go past the U.S. Postal Service Bulk Mail Center.
For more info:
PIDO (Point Isabel Dog Owners and Friends) or go to Muddy Puppy's Tub and Scrub
Cesar Chavez Park, Berkeley
This is a beautiful park, rolling hills with grass on about 17 acres with spectacular views of the bay, San Francisco and the Golden Gate Bridge. They supply poop-bags and people are very good about picking up for their dogs. The park is not as crowded as Point Isabel and is one of our favorites.
Directions: Take University Ave. west and follow the signs to the Berkeley Marina and Cesar Chavez Park.
Alameda Dog Exercise Area, Alameda
This is one of the largest fenced in dog parks in the Bay Area. It is a great place to practice your recall. We often meet clients here to practice off-leash obedience. It also has a small and large dog area. There are shade and picnic benches spread throughout the park. The park is located at 8th and Central right next to the Washington Park tennis courts.
Memorial Park, San Ramon
The park is fenced in on 1.3 acres and has a small dog area. The surface is made of decomposed granite. There are no trees but it does have a covered area with picnic tables for the owners. Great place to throw your ball or frisbee for your dog. We also do beginning off-leash work here with our clients from the area. There are restrooms and water available. It is located on Bollinger and San Ramon Valley Boulevard.
San Miguel Park, Walnut Creek
This is an open grassy 4 acre area that allows your dog to be off-leash but only between the hours of 6 am to 9 am. There are a lot of trees and shade. The park is located on San Jose Court. Take Ygnacio Valley Rd. going east about 2 miles to San Carlos Drive turn right and go .3 miles then left on San Jose Court.
Dog Trails to Hike with your Dog
Skyline Gate off Skyline Blvd in Roberts Park, Oakland CA.
Take CA13 to the Joaquin Miller exit and go East 1.1 miles then turn left on Skyline Blvd. Go 3 miles to parking lot on the right.
This is a beautiful wide trail that winds into the hills of Oakland with plenty of shade. The trail is shared by runners, bicyclists, dog walkers, and horses. There is a large parking lot and they have water and bathrooms at the trail head. There are many small trails that branch off the main trail to add variety and interest. Some of the smaller trails require dogs to be leashed. Look for the signs that designate off and on leash.
Richard C. Trudeau Training Center
11550 Skyline Blvd.
Take CA13 to Joaquin Miller go east 1.1 miles, stay right on Skyline and make a left right after the stop light. The off leash dog park is to the right of the training center. You will see a trail head with a sign that designates the area as an off-leash dog area. This area is wide open and great for throwing balls and frisbees. It is a favorite spot to do some obedience work with your dog.
Dog Walkers
Dog walkers can be a real benefit to getting your dog that extra exercise and stimulation they need when your busy schedule gets to be too much. Getting your dog properly exercised can be the difference between a happy content dog and one that drives you crazy and destroys the house out of boredom and frustration. If you cannot exercise your dog everyday then we recommend a good dog walker. Here are some of our favorites.
Run with the Big Dogs
Located in San Leandro, CA
Owners: Pam and Jerry Treber
Phone: 510-568-1875
email: treberjr@aol.com
Animal House
Located in Orinda, CA
Owner: Pete Ritter
Phone: 925-254-3677
Email: animal-house@comcast.net
Dog Day Care
Dog day care programs benefit the dogs of owner's who's busy lives prevent them from properly socializing and exercising their dogs. Owners benefit by coming home to a calm, relaxed pet and by having a guilt free day while at work.
An article in the online magazine describes the benefits of dog day care this way: "The guiding principle behind dog day care is simple – provide a safe and healthy atmosphere with lots of interaction, both with other dogs and with people. Dogs can participate in group play, gnaw on a favorite toy, hang out with humans in the office, or just lounge on a couch and watch television. The point is that they're not at home by themselves."
Dog Boarding
Having a reliable and safe place to board your dog is a must for every pet owner. We recommend the following kennels for a variety of reasons: A Professional and friendly staff, clean and sanitary runs, climate controlled, supervision 24 hours a day, exercise areas for the dogs, and supplemental services such as bathing and grooming.
Recommendations to come soon.
Dog Grooming
We have recommended the following Groomers to our clients and have received nothing but positive feed-back about all of them.
Four Paws Grooming
Owner: Sarah Weyland
2818 North Main St.
Walnut Creek, CA 94597
Phone: 925-287-8131
Dog's Best Friend & The Cat's Meow
Owner: Nancy Kallenbach Han
525 San Pablo Ave.
Albany, CA 94706
Phone: 510-526-7762
www.dogsbestfriendcatsmeow.com
Kaycee's Pet & Groom
Owner: Kaycee
710 E. 14th St.
San Leandro, CA
Phone: 510-569-1167
Agility
Agility is an exciting dog sport open to all breeds and sizes of dogs. In agility dogs and handlers maneuver their way through a timed course designed to test their abilities in jumping hurdles, running through tunnels, traversing a teeter, climbing a 6′ A-frame, weaving through a line of poles and more.
The following resources can get you started in agility.
The Bay Team
The Bay Team is one of the largest Agility Clubs in the Nation. It started in the Bay Area in the early 90's and currently has over 200 members. The club sponsors at least 4 events per year and is a fantastic resource for agility information. The club's membership reads like the who's who in agility competition. But you don't have to be one of the best to belong to this club. They welcome all levels and all breeds of dogs including All American Breeds (Mixed Breed Dogs). If you are interested in getting involved in Agility you should join this club.
United States Dog Agility Association – USDAA
The USDAA introduced agility to the US in 1986. They are the grandfather of Agility in North America. On their website they claim to be the world's largest independent authority for sport of dog agility. If you are going to seriously compete in agility you should join this organization. The organization allows all breeds including Mixed breeds to compete.
American Kennel Club (AKC)
The AKC jumped into agility in the late 90's when the sport was really taking off. Since then they may have over taken USDAA in terms of number of members and events.
With the new-this-year AKC Canine partners program, mixed breed dogs can now compete in AKC obedience, agility, and rally trials and matches. For more information see: Mixed Breed Brochure and Canine Partners
From their site: "Mixed-breed dogs may now participate in sanctioned AKC Rally�, Agility and Obedience. They'll compete in the same classes as purebreds at events where entries for mixed-breeds are accepted."
NADAC North American Dog Agility Council
NADAC was founded in 1993 but has remained small in comparison to USDAA and AKC. It offers a different flavor of agility that is more open to a wider variety of dogs including mixed breeds. They do not have as many events in Northern CA as offered by AKC and USDAA. Most people choose to belong to several organizations and compete for titles in a variety of formats.
CPE Canine Performance Events
CPE began in 1998 and is open to both purebred and mixed breed dogs. CPE offers more games in their competition to foster more fun in competing. Their philosophy states, "for the dog and handler to have fun while successfully competing for agility titles as a cohesive unit, achieved through positive training and teamwork."
Agility Trainers
Freilance Agility, Martinez, CA
Power Paws, San Jose, CA
Salinas-Monterey Agility Center, Salinas, CA
List of Agility Clubs and Schools from Clean Run
The Bay Team has a list of local trainers on their website
Dog Organizations
IACP (International Association of Canine Professions)
The INTERNATIONAL ASSOCIATION OF CANINE PROFESSIONALS is an organization established to maintain the highest standards of professional and business practice among canine professionals. Its aim is to provide support and representation for all professional occupations involved with any aspect of canine management, health, training and husbandry.
The INTERNATIONAL ASSOCIATION OF CANINE PROFESSIONALS commitment is to develop professional recognition, communication, education, understanding and co-operation across the wide diversity of canine expertise and knowledge.
AKC
Quoted from their Mission Statement: "The American Kennel Club is dedicated to upholding the integrity of its Registry, promoting the sport of purebred dogs and breeding for type and function. Founded in 1884, the AKC and its affiliated organizations advocate for the purebred dog as a family companion, advance canine health and well-being, work to protect the rights of all dog owners and promote responsible dog ownership."
Objectives of AKC: "Advance the study, breeding, exhibiting, running and maintenance of purebred dogs."
UKC
Quoted from UKC from About Us. "Established in 1898, the United Kennel Club is the largest all-breed performance-dog registry in the world, registering dogs from all 50 states and 25 foreign countries. More than 60 percent of its 12,000 annually licensed events are tests of hunting ability, training and instinct. UKC prides itself on its family-oriented, friendly, educational events. The UKC has supported the "Total Dog" philosophy through its events and programs for over a century. As a departure from registries that place emphasis on a dog's looks, UKC events are designed for dogs that look and perform equally well."
Mix Breed Dogs of America
Quoted from their home page. "Owners of mixed breeds can enjoy the thrill of competing for titles in obedience, conformation, tracking and much more. The Mixed Breed Dog Clubs of America (MBDCA) is a national registry for mixed breeds, providing many of the same opportunities that the American Kennel Club (AKC) offers for purebreds. We are not a mixed bred placement center nor do we provide rescue services…"
 Competition Events
AKC
Here you can get information about competitions in obedience, agility, herding, rally, tracking and more.
UKC
They list events for Obedience, Agility and Dog Sports.
Mix Breed Dog Clubs of America (MBDC of America)
This is a national organization with local chapters that caters to Mixed Breed Dogs who can't compete in AKC offering them a venue for competing for titles that are similar to what AKC offers in obedience & rally, conformation, tracking and much more.
The California MBDC of CA
Holds many local events in the Bay Area.
Rescue Organizations
Websites for Dogs
Dog Play
Cool Website that has a lot of good dog info and helpful resources for doing fun things with your dog.
PetPeopleNetwork.com
A new website dedicated to helping people in the Bay Area find pet services such as Sitters, Walkers, Trainers, Groomers, Adoption, Communication, Stores, Alternative Resources and more.
Doggie Boutiques
Wags and Whiskers
1528 Locust St.
Walnut Creek, CA
925-935-BARK (2275)
Books and Articles on Where to take your Dog
If you are really into taking your dog's places and enjoying the company of other dogs and owners then I highly recommend these two books. They are both now into their 5th printing. I keep a copy in my glove compartment of my car.
The Dog Lover's Companion to the Bay Area by Maria Goodavage
The Dog Lover's Companion to California by Maria Goodavage
The Dog Lover's Companion