Dog & Puppy Trainer Reviews – Fremont
Fremont Dog & Puppy Trainer Reviews – Aggressive Puppy Biting Solved With Puppy Training
Carol Kowalsky didn't understand her new puppy's behavior and how to develop a proper dog owner relationship. The Dog Squad training gave her both the tools to shape good dog behavior but also how to stop the bad puppy behavior that was causing her so much grief.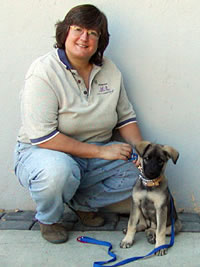 Carol Kowalsky
Dog training with The Dog Squad has given me the confidence and tools to recognize and solve the problems which inevitably arise with a 10 month old German shepherd/Malamute puppy, who now impresses friend and foe alike by coming to me in the middle of play, and sitting and going down with one command even amidst the dog park distractions.
I firmly believe that without proper training, and especially without Steve's help and patience, I would not have the gentle, loving relationship I have with my 73 lb, 10 month old puppy, especially considering the fact that before she was three months old, she was a dominant, aggressive, snapping, growling little alpha-monster.
Dog & Puppy Trainer Reviews – Fremont
Carol Kowalsky
The Dog Squad is a full service in-home Dog and Puppy Training Company serving the Oakland East Bay Area and Contra Costa County. Services include Puppy Training and Adult Dog Training Programs including all types of dog behavior problems such as aggression, destruction, barking and separation anxiety.
A Dog Obedience Class (Drop-in) is held twice a month for Current Dog Squad Clients as a supplement to their in-home dog training to help improve and maintain their obedience skills. Clients who sign up for a qualifying Dog Training Package have access to the drop-in classes for a full year. The Dog Squad also gives life time of the dog phone and email support.
Call for Free Phone Consultation 877-632-DOGS (3647)