Dog Training Review – Hayward, Fremont, Newark, Union City
Sibling Rivalry in Hayward Home: Dog on Dog Aggression Fixed
Melanie and Kent had just moved in together, both with a dog, to discover that their dogs did not get along with each other. Katie the older Miniature Schnauzer did not want anything to do with Nikki the 10 month old German Shepherd and constantly attacked her. After just 5 lessons they sent me the following Dog Training Review.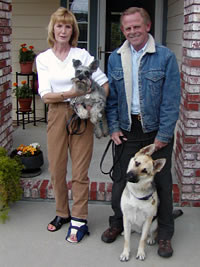 Melanie & Kent Ryden
Thanks so much for all your efforts related to the training of Nikki, laughingly referred to as Jurassic Park because she is a 65 pound "puppy" with no training whatsoever that was rescued from German Shepherd Rescue of Northern California. When you first stopped by to outline the training process, I was a bit apprehensive and not overly optimistic given her somewhat wild personality. I was also quite concerned about whether or not she and the other dog, Katie, a 17 pound miniature Schnauzer, would work out their differences given Katie was extremely aggressive.
Needless to say, in only 10 weeks, Katie and Nikki have calmed down considerably, perform reasonably well on a leash, know several commands and, lastly, have actually developed a pretty decent relationship. In fact, in the last few days, Nikki and Katie have actually laid down on the same blanket (off leash) with only one piece of rawhide between them – not a single bark was heard – amazing!
Sincerely,
Kent & Melanie