Dog Training Livermore
Willful Border Collie Puppy Gets Needed Dog Training Livermore, CA
When Lynn first called us about her 5 month old Border Collie puppy she was having a hard time controlling him. Cody was very demanding and willful puppy. Lynn felt like she was being out smarted at every turn by her dog.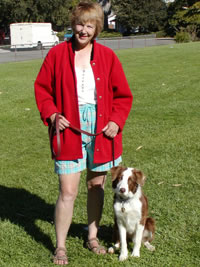 Lynne Freeman
"When Steve Bettcher began working with us, Cody was 5 months old and on his way to becoming a dominant, problem dog. He was willful, demanded attention and when he didn't receive it, he'd began an escalating series of behaviors designed to get it.
Steve immediately diagnosed the problem and suggested a series of activities designed to correct the situation and to move forward each week with several new skills. He works with the dog, its people and its living environment and design training schemes that are realistic for the situation and for the goals of the owners.
I was amazed and thrilled with the rapid progress that Cody and I made, and I credit it largely to Steve's skill in effective training techniques and their professionalism…Steve is a good listener and is positive and professional in his manner…I recommend The Dog Squad highly."
Dog Training Livermore
Lynne Freeman