Dog Training Alameda
Dog Training Alameda – Stroke Survivor Needed Help with Her Out-of-Control Golden Doodle
Sunny got a hold of me after being released from the hospital after a stroke. She was told by her friends and the staff at the hospital that she would need to give her dog up for adoption. Sunny contacted me and we came up with a training plan using an Electronic Collar so she could handle "Easy" even though she had limited mobility. Click on link to see a video of Sunny and Easy. VIDEO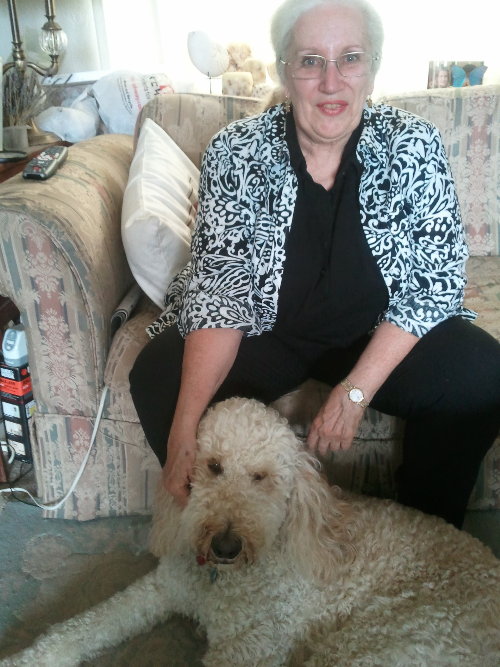 Sunny Gustafson
BEST CHOICE I EVER MADE
It wasn't long after I got my rescue dog before I realized that he really rescued me. I named him "Big Easy" after my former hometown, New Orleans. At first, the "Big" part of his name proved truer than the "Easy" part did. Seemingly overnight, he tripled in both weight and size. Still a puppy, he was full of boundless energy and mischief. I thought that with enough love, discipline and consistency; that I would still be able train him.
Then my world imploded. I had a stroke and was in the hospital for several months. While grateful that I was able to come home at all, my body and mind were irrevocably changed. The medical staff advised me to find Easy another home. Yet I didn't think I could face life home alone without my already much loved dog – especially now that I was a shut-in. But Easy was so rambunctious and out of control … I couldn't help being concerned for my safety and for that of my friends (who might visit) who are mostly older, as I am.
I searched the internet for a dog trainer who would come to my apartment to train Easy and I. After reviewing all the aspects that I could think of for the many trainers available, I chose Steve Bettcher of Dog Squad. BEST DECISION OF MY LIFE!!!
Steve understands dogs and can make them obey almost like magic. Training me to be able to control my dog was a much tougher job for him. Steve is infinitely creative in finding ways that I could use his techniques to train my dog despite my disability. He is endlessly patient in helping me overcome my challenges. Today Easy is so well behaved that all my friends' comments on the change. I would love to take credit for his new good manners, but the truth is, I never would have been able to keep Easy under my control if Steve hadn't worked so hard to show me how. I recommend Steve Bettcher/Dog Squad without hesitation to anyone who is as overwhelmed as I was by his or her dog's misbehavior. He was the answer to my prayers – maybe he will be the answer to yours too!
Dog Training Alameda
Sunny Gustafson