Dog Training San Leandro
Dog Training San Leandro Man Needed Help to Leash Train his Dog
Domingo called because his newly adopted Yellow Lab Doe was stronger than he could handle on a leash. Domingo could not walk Doe on a leash without being afraid of being pulled down to the street.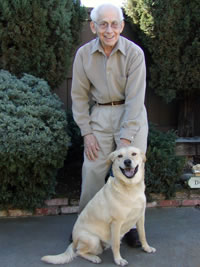 Domingo Pagano
Dear Susan Hughes DVM, Chabot Veterinary Clinic:
I want to thank you for recommending The Dog Squad to train my dog, Doe. I was concerned that Doe was going to be difficult to train, but they were able to train Doe in a very efficient manner. They were very professional and were able to train Doe to sit and walk on a leash.
In fact, Steve came out on his own, at no charge to me, to train my dog walker to properly handle Doe. He knows how to handle dogs that exhibit behavioral issues. I recommend The Dog Squad to any dog owner who needs training.

Dog Training San Leanddro,
Domingo Pagano