Dog Training Berkeley
Dog Training Berkeley – E-collar Helped Solve Her Dog Problems
June really needed a dog training method that could help her with two problem dogs. But, she was horrified to learn that we recommended an e-collar (shock collar) for her situation and dogs. After learning how an e-collar could be used humanely she decided to give The Dog Squad a try.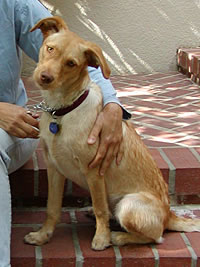 June Kamerling
Quoted from Berkeley Parents Network
May 2006
We need a one on one dog trainer for our recently adopted young adult dog. Sirius did not work for her and the philosophy was not a good fit for our family. We can't all walk around with fanny packs stuffed with treats wherever we go! Our dog is very sweet but she barks endlessly, nips the kids sometimes and chews their stuffed animals like crazy. Any suggestions are welcome – we are in North Berkeley
I can recommend a fabulous dog trainer for tough behaviors, such as barking, pulling on leash, chewing etc. The Dog Squad, Steve Bettcher(510 632-6594). We have 3 dogs. Our recent rescue adoption, Toots, was a little guy who barked incessantly. My other rescue dog, Gilly, would jump and pull on leash and came only when he felt like it. I did a training class with Gilly a few years ago when we got him. It was a lot of work to train him and he got some stuff but I never kept up on it. It was very time consuming and I let it go. When we got the barker (didn't know he was a barker till we had him a week or so) I knew we needed help and Sirius was not the place for us either. Steve Bettcher is GREAT. He uses an impulse collar. Steve came to our house and did a presentation … showed a DVD of him training dogs and owners training dogs. When he came I didn't know about the collar, he'd been highly recommended by someone else though. I was horrified, really, when I found out he used a "shock collar" … well, we decided to go with it. First he showed us the collars and how the impulse feels on our hand. It definitely did not hurt, even at the higher levels. Just feels like an uncomfortable electric impulse. Patrick came and put the collars on our 2 dogs, showed us how to use the remote and did a training with us. In minutes each dog was changing behavior (and with no signs of discomfort from the collar). We signed up for a "package', 2 collars, 2 remotes, 3 private training sessions and unlimited group classes taught by Steve.
We now have well (weller) behaved dogs. It's been about 5 or 6 weeks. Gilly is working on healing and doing pretty well. He rarely jumps on people and when he starts to, a verbal command now works. Toots barely barks at people. There are times he freaks (he's very timid) and barks crazily but we know how to deal with it and we're still working with him. Both dogs wait at the door till we say OK to go, both dogs sit and stay and lie down and stay. The both come when called most of the time. I take them out in the morning and do training for about 20 minutes and again in the afternoon. This training has been/is SOOOO much easier than any other training I've done with dogs (I've owned dogs most of my adult life). Especially the barking issue. This is an ongoing process and we will always need to maintain the training, but the main behavior problems are well under control. So, long explanation to recommend The Dog Squad. You can e-mail me if you want more info.
Dog Training Berkeley
June