Dog Training with Electronic collar
Dog Training with Electronic Collar Reviews
When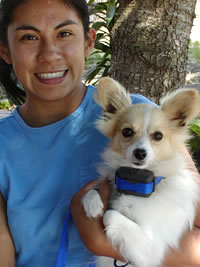 we first introduce the idea of training a dog with an E-collar many clients are skeptical and react negatively. The reaction is justified because most people have only seen or heard of the collar being used incorrectly or harshly. Following are just a few testimonial letters that we have received from clients who have used our e-collar training method with success.
I just wanted to thank you so much for the amazing help with both Frankie and Deano. It is like we have 2 brand new well behaved dogs! Both the private lessons and park sessions have increased their social skills tremendously. We look forward to continuing their training and taking back our "Alpha" status in the household.
Thanks Again,
Jenny and Sam Osman – Oakland, CA

I just wanted to let you know that I'm really glad that we're working together with my dogs. I'm so impressed with your training and have already recommended you to friends. I also appreciate the extra time you're spending with Oliver, and I just want to make sure that you know that I always am looking out for Oliver's best interest. The last few months I've tried to keep him as stress free as possible, but I needed help to push him to the next step, which you're showing me how to do it. I just want you to know how appreciative I am. Thank you again, and I look forward to seeing you on Friday.
Heather – Castro Valley, CA

Dear Dr. Gerald Dzendzel,
We thought we'd share some good news and resource with you. As you know, Koko has had separation anxiety since we got him. He's about fourteen months now. We have been working with Steve Bettcher for over a month and his change of behavior has been dramatic…..for better! We wish we had connected with Steve sooner. We are very pleased with his work and we highly recommend him to you and your clients. I have enclosed his business cards.
Talk to you soon.
Best regards,
Ralph & Allyson Fattore – Alamo, CA

To Whom It May Concern,
I am writing on behalf of The Dog Squad and in support of his training methods. At the recommendation of Providence Veterinary Hospital, my wife and I hired Steve Bettcher this year to help us obedience train our two dogs (Gus and Violet). Before the training we had very little authority over our dogs and as a result our ability to guide and control Gus and Violet in social situations (with other dogs in particular) was limited. While at first we were apprehensive about doing dog training with electronic collar, it quickly became evident that the electronic collar is a humane and effective method to train our dogs.
We have had great success with the training. Now we have far more authority and control with Gus and Violet and they are happier dogs given the introduction of rules and structure into their lives. Now we can take Gus and Violet into most social situations. Our new ability to set limits with Gus and Violet in turn provides them with greater freedom to interact with and enjoy other people and dogs.
I would have no reservations about recommending Steve to other dog owners in need of assistance.
Sincerely,
Bret Fimiani and Hailey Ashcraft – Alameda, CA

We feel very comfortable in recommending Steve Bettcher and his training with the e-collar to anyone. We had tried a chain store for training and that did not work out. Steve came to our home and worked with us for the first 4 weeks of training. There are classes available every Saturday, Sunday and during the week. Steve had a great understanding of dogs and their behavior. He was very helpful and if you have any special needs or problems he is available by e-mail and phone. We have been working with Steve for over a year. Marley (pit bull) is very socialized, we can take her on walks and to the dog park. She really likes to play with other dogs. She is great with children of all ages, loves people and gets along with our cat. We take her with us when we travel and feel very comfortable with her behavior. She has learned voice and hand commands while attending the group classes on the weekends.
Sincerely,
George & Linda Burtenshaw – Alameda, CA

I am sorry to be so long getting this letter off but as six months have gone by since I got my new Rottweiler, "Lilly," perhaps it is a good time to give you results on her training. I was hesitant to use the electronic training collar but as you suggested it would be less expensive, quicker and just as effective as manual training. Indeed it has worked that way. Lilly is a big dog and much stronger than I am so I put the collar on whenever we leave the yard. I hardly ever use the "zapper" but I find it good to have if she wants to play with other dogs sometimes.
All in all it is quite satisfactory and I can recommend Steve's work as before!
Sincerely,
Dolly Newell – Alameda, CA

Polly is a nine month old sweet shepherd-terrier mix with lots of energy and a mind of her own. I had some success training her to sit, come, and not jump on people, but her responses were uneven to say the least. We both enjoy hiking on the off-leash trails in Redwood Park, but I could not rely on her to come when it was time to break off playing with another dog or upon meeting a horse. The former was inconvenient, the latter dangerous. So I called the Dog Squad. Steve Bettcher came to my home to meet Polly, make an evaluation, and explain the training program, which included three home sessions and unlimited classes as long as Polly lives.
At first training session they explained the use of the electronic collar and began working with Polly. By the end of the session she was reliably responding to come and no longer pulling on her leash. By the end of the second session she was heeling, sitting, and lying down. The third session was a review and reinforcement of everything she had learned. After the first session I took her out on the trail. She came every time I called, even if she was playing with another dog. She came and sat beside me when we encountered horses. When we walk in downtown Walnut Creek she heels and sits before we cross a street. If she jumps up on someone she immediately obeys my command of OFF. She is now a beautifully mannered, sweet shepherd terrier mix with lots of energy and a mind of her own.
Judith Tucker – Walnut Creek, CA